---
The LNER Coach Association was formed in 1980 with the objectives of obtaining, restoring and operating a collection of ex-LNER and / or constituent companies vehicles. It also provides an umbrella organisation for members with privately owned LNER and / or constituent companies vehicles for eventual use on the North Yorkshire Moors Railway.
---
Latest News
Working weekend
If you can spare even a few hours, any help would be much appreciated. If possible, please let Murray Brown know in advance if you do plan to attend by email or phone (01733 578000).
Restoration Update
TK 1623
Subcontractors are continuing with extra hours which should pretty well complete the major things inside the body, i.e. the compartment doors and the loos. The outside requires a further 2 coats of varnish which is targeted to be done later in April. Theoretically the coach should be ready to go into C&W at the beginning of May, just after the Spring gala, for attention to its underframe and bogies by C&W.
There are also many other things needing to be done which Gordon, Russ and others are working on, and many thanks to them for all their work.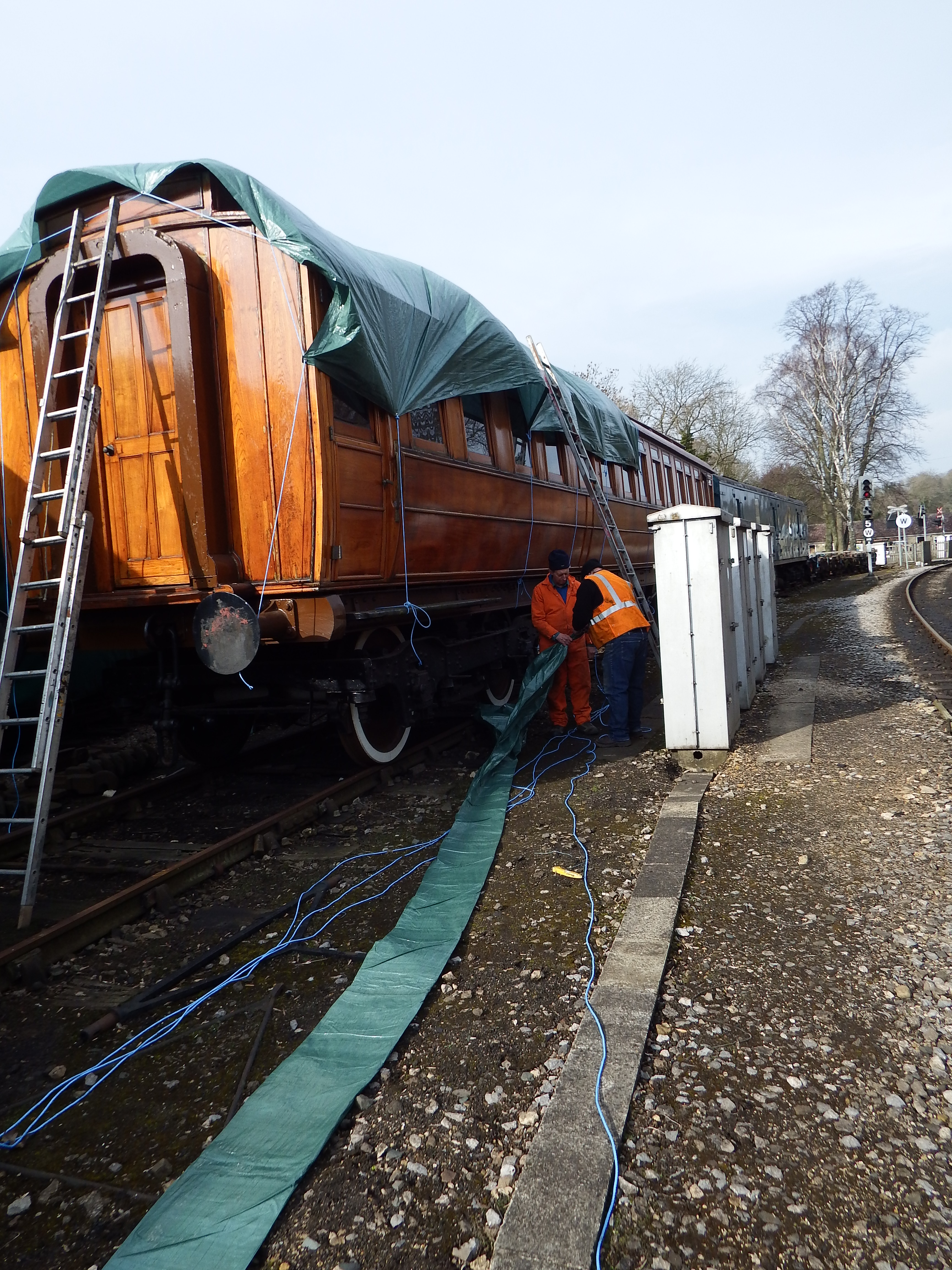 View of some of the completed lettering on one side of 1623 - photo: Malcolm Brown
BTK 3669
The restoration team have been working on both bogies and there have been some problems. Bogie A required welding up of the 4 corners of its subframe and I'm pleased to report that this has been completed, thanks to the services of Nick Hutchinson, a suitably qualified welder. All that remains to be done on this bogie is the straightening out of its headstock, and then shotblasting.
Bogie B is more of a problem because there is excessive corrosion of the subframe and it requires further dismantling, which will start shortly. We will probably have to replace two of the cross-members with new pieces. It also requires shotblasting, which will be done when it's ready for it with bogie A, at New Bridge, using an outside contractor. Then both bogies will require painting before re-assembly.
The good news is that after removing all 4 springs on each bogie, 8 in total, they have been tested and passed okay by C&W.
Following the laying of the van floor, the coach body is now virtually finished inside apart from the loo. It will require a further exterior varnish once it goes into the Atkins shed, when 1623 moves out.
ECJS 189
Although 189 is now back up the long siding , albeit sheeted over, the Perth underframe which the body of 189 will eventually be transferred to, is now in Pickering yard. Its deck is now clear apart from one item, and a start has been made on removing its wooden floor, which is badly rotted. Any offers of help for removing this will be greatly appreciated. The rotten wood has to be removed and is being temporarily stored in a woodpile next to the CCT , from where it will be removed for disposal. Our engineering designer, Simon Hartshorne, is currently working on designs for shortening so it can be used under 189's body.
Website updated
The news on the website has been updated.
If you would like to be notified when this website is updated, please click here .
---
Restoration Appeal for ECJS 189 and Thompson CK 18477
For more than 30 years the LNER Coach Association, based on the North Yorkshire Moors Railway at Pickering, has specialised in the restoration of historic railway carriages. The results of its labours can be seen in the magnificent teak train that runs regularly on the railway. With the current restoration project of Thompson TK 1623, a corridor coach with 7 individual compartments, nearing completion, attention is now turning to the Association's next projects - restoration of its oldest coach - ECJS 189 and its newest coach - Thompson CK 18477.
For details of this appeal, please download the appeal leaflet here , or email our Fund Raising Officer here
---
On-line fund-raising schemes
We have just launched several new schemes to help raise restoration funds on-line for the LNER Carriage Association on-line, with just few extra clicks. The new on-line fund raising schemes consist of two web shopping portals and two search engine schemes, and by using these schemes you can help raise money for us, without it costing you a penny!
Shopping Portals
The two shopping portals are buy.at and easyfundraising.co.uk. If you shop on-line, using either of these portals, then for every purchase you make, we receive commission on that purchase, whilst you pay the same amount as you would have, if you had made the purchase direct!
On-line shops available through the Buy At scheme include Amazon, Asda, CD Wow, E.on, Hertz, Ikea, More Than, National Lottery, Premier Inn, and many more. The complete list of participating stores, and what commission they offer, can be viewed on the site. This scheme doesn't even require you to register, all you have to do is go to http://buy.at/lnerca , and start shopping!!
On-line shops available through the Easyfundraising scheme include AA Travel Insurance, Argos, Blockbuster, iTunes, More Than, The Trainline, Thomas Cook, WH Smiths and Wickes. The complete list of participating stores can be viewed here . To use this scheme, you do need to register first, a process that only takes a few minutes and can be done here .
Search Engine Schemes
The two search engine schemes are www.everyclick.com and www.easysearch.org.uk . These schemes work by the web company donating some of the money they receive from advertising fees, for each search that is completed using the search portal.
---
---
Site last updated 29th March 2014

Opinions expressed on this web site do not necessarily represent the policies of the LNERCA Committee. © 20143 L.N.E.R. Coach Association.
Site comments and queries to the Webmaster.
For Association matters e-mail the L.N.E.R. Coach Association