LNERCA awarded £38,000 – Nov 2020
The LNER Coach Association is most pleased to announce an award of £38,000 from the Government's Culture Recovery Fund. This much needed finance will enable us to resume work in conserving and restoring some of our priceless collection of heritage railway carriages. It also gives us the opportunity to develop the sharing of our heritage skill sets with local technical colleges, and the chance to attract a wider range of volunteers. It is going to make a real difference to our activities in 2021 and beyond. The LNERCA is grateful to the Cultural Recovery Fund for supporting us in our aims. Post lockdown you will be able to visit our workshop at Pickering and see our work in progress.
In passing, we cannot run our beautiful carriages without a superb railway on which to operate, and it is great news to hear the North Yorkshire Moors Railway has been awarded a sum of £1.9 million from the same source – this will ensure the NYMR has a thriving future in these difficult times.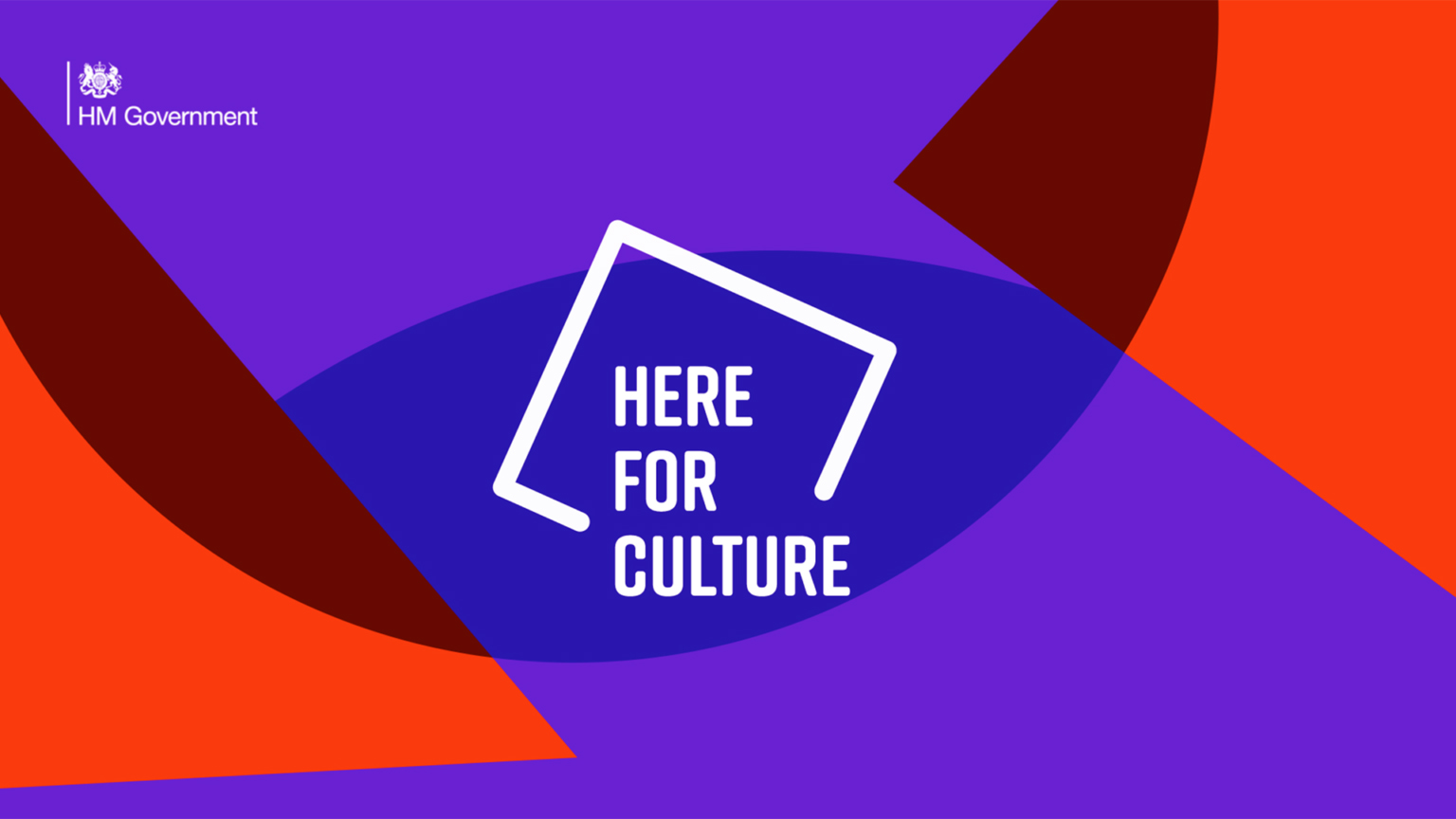 It's here – the 2021 Calendar!
Hot off the press! The first and brand new 2021 Calendar is now available – in the website shop.
Featuring the LNER carriages behind a superb variety of locomotives, you can enjoy 2021 as it progresses by a different locomotive and location for every month.
Besides the NYMR's fleet of traction including A4 Sir Nigel Gresley, the Calendar also features two visiting LNER A4s – Bittern and Union of South Africa.
By buying this lovely Calendar, you will be helping the LNERCA to continue its quest to restore these beautiful LNER carriages and its antecedents for the public to enjoy in future years.
We have not set a price, but are seeking a donation of a minimum of £10 (p&p is £2).
Please click on 'SHOP' in the main heading of this website to order your copy. Do please tell your friends as they might like one too.
Many thanks for your continued support.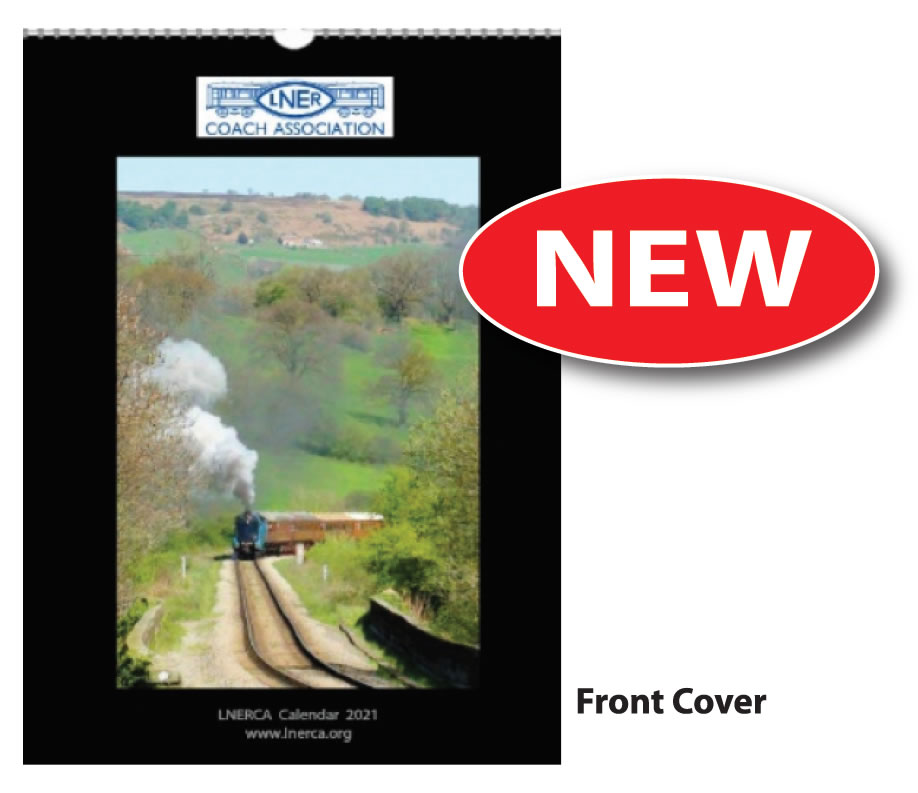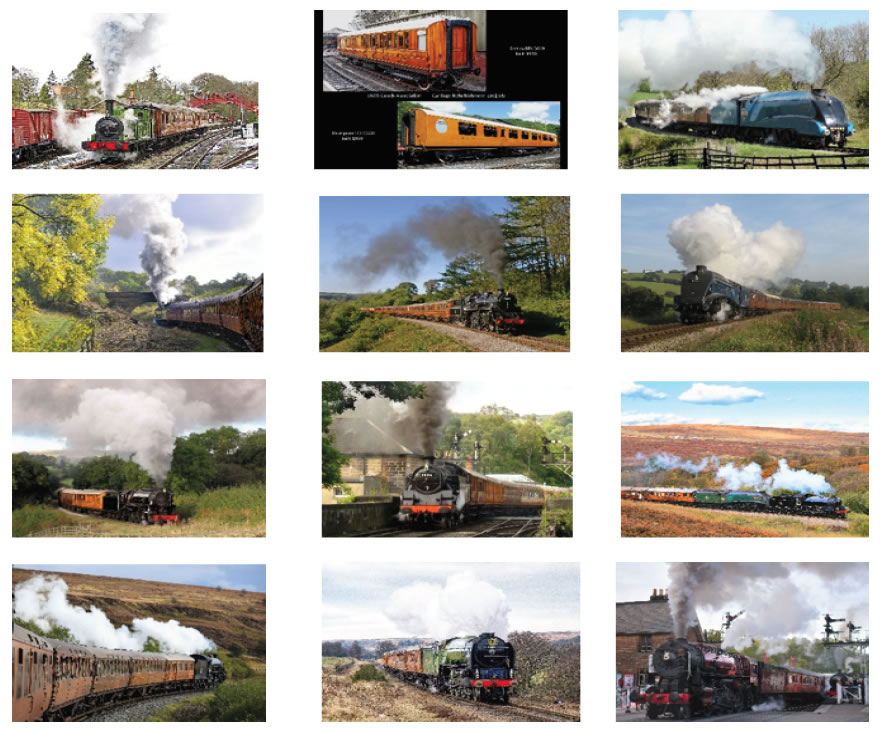 Back to work in the Atkins shed – Sept 2020
With the partial easing of lockdown restrictions, volunteers are now active on Wednesdays, Thursdays and Sundays. New and old faces are welcome, so if you would like to help please contact our volunteer liaison officer Marcus Woodcock on marcus.woodcock@yorkscoast.plus.com.
The latest vehicle to receive emergency attention has been Gresley Tourist Third Open 56856, which many readers will be familiar with because of its bucket seats. It needed attention to roof leaks, and because of the pressure of other work, that's all that's been done this time around. The roof leaks have been sorted, and the roof repainted in gleaming white, but it will need to come back into the shed within two years for a full re-varnish.
Meanwhile, its place in the shed has now been taken by sister carriage TTO 23956. This, too, needs repairs to leaking roof, as well as a full overhaul, which includes taking the teak panels off, repairing them, refixing them, and re-varnishing, all of which is likely to take 12 months. At least it is now un-der cover to dry out. Before work starts, there is the matter of a new overhaul and loan agreement to be signed with the owner, the National Railway Museum.
Meanwhile, a rather special carriage moves ever nearer the day when it can be rolled out – though not just yet. This is the Victorian restaurant car, built in 1894, East Coast Joint Stock RT 189. The major work to report is the extensive internal panelling undertaken by Mike Illingworth. This panelling is formed of hundreds of small hardwood boards varying in lengths up to 3ft, and four inches deep. They are pinned onto the frame. Many have been made from old laboratory benching which we were donated some time ago. Once fitted, the varnish brushes will be out in force.
A further sign, literally, of the magnificence on this unique survivor has been the hand painting of the number, 189, by Christopher Johnson. This talented young man with unbelievable steady hand and patience has also finished the red destination board which sits on top of the cantrail (top of bodyside) proudly proclaiming the carriage is running between London King's Cross and Edinburgh.
Fish Van E75169
The new framing for this vehicle has been fabricated and brought to Pickering for trial assembly. One-inch thick plywood boards have been cut to shape, to form the actual bodysides and ends. Volunteers have been preparing these boards with sealant and undercoat. Of course, the finished Fish Van, the last of its type (oil boxes and to the LNER design) will be adorned in white gloss. To fix the sides and ends to the framing, a huge number of bolts are required, the initial order being for 532 varying sized bolts and coach bolts – with more to come.
This unique vehicle, whilst not earning revenue for the NYMR will, if nothing else, add ambience and character to the NYMR's appeal as it recreates what was a long-lived tradition of Whitby railways and the line through Pickering. Fish vans were a regular sight tagged onto passenger services, hence why they were stencilled 'XP', this denoting Express Passenger. It is believed the last fish traffic to use the railways at Whitby was in 1964.
Looking ahead
Looking ahead, the next carriage in sight for the LNERCA treatment is 1935-built Gresley designed Third Corridor 23896. This is exactly the sort of vehicle the NYMR want to have in the teak train, be-cause not only can it carry up to 64 passengers, it also has 8 compartments, which are of course ide-al for pre-booked groups as a method of achieving social distancing in the current situation. Whilst it was stored at Carnforth for many years under cover, the LNERCA managed to undertake body repairs and have it varnished. We will need to rebuild the interior, although much of the corridor screen is in situ. Thanks to a member who kindly offered to match fund monies raised, we are off to a great start with a £10,000 war chest. We welcome donations towards this carriage and any others in our collection, including particularly the unique Fish Van to aid its completion. For those interested, do see our website for contact details: www.lnerca.org.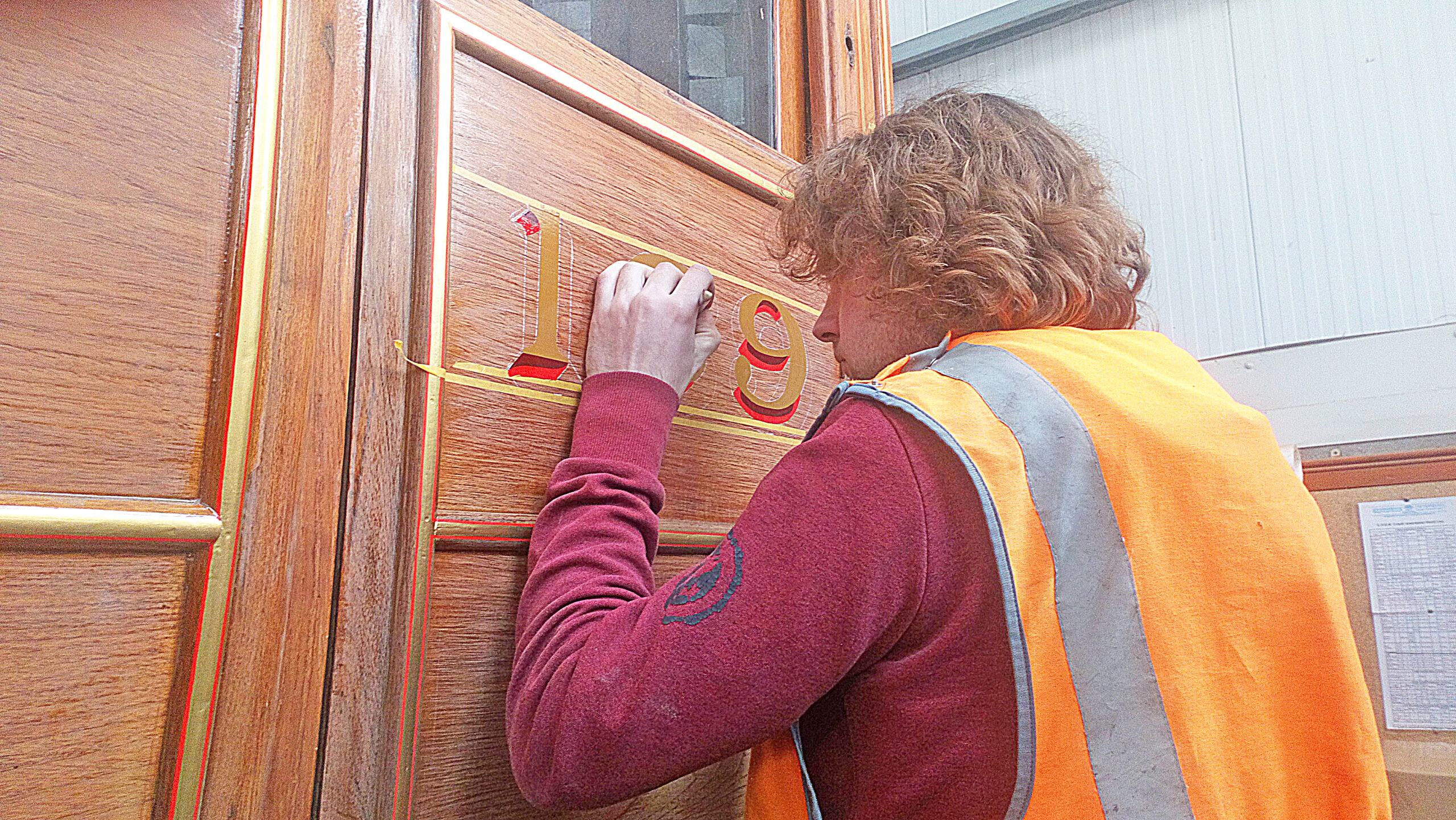 More visible evidence of the splendour of East Coast Joint Stock Restaurant Third (RT) No. 189. Christopher Johnson carefully applies the shaded numeral. This magnificent vehicle will be the only ECJS carriage in which the public will be able to travel once it is completed. There are seven ECJS carriages sat on underframes surviving, three of which are owned by the National Railway Museum, with another body in two halves in Scotland. Photo: Paul Johnson.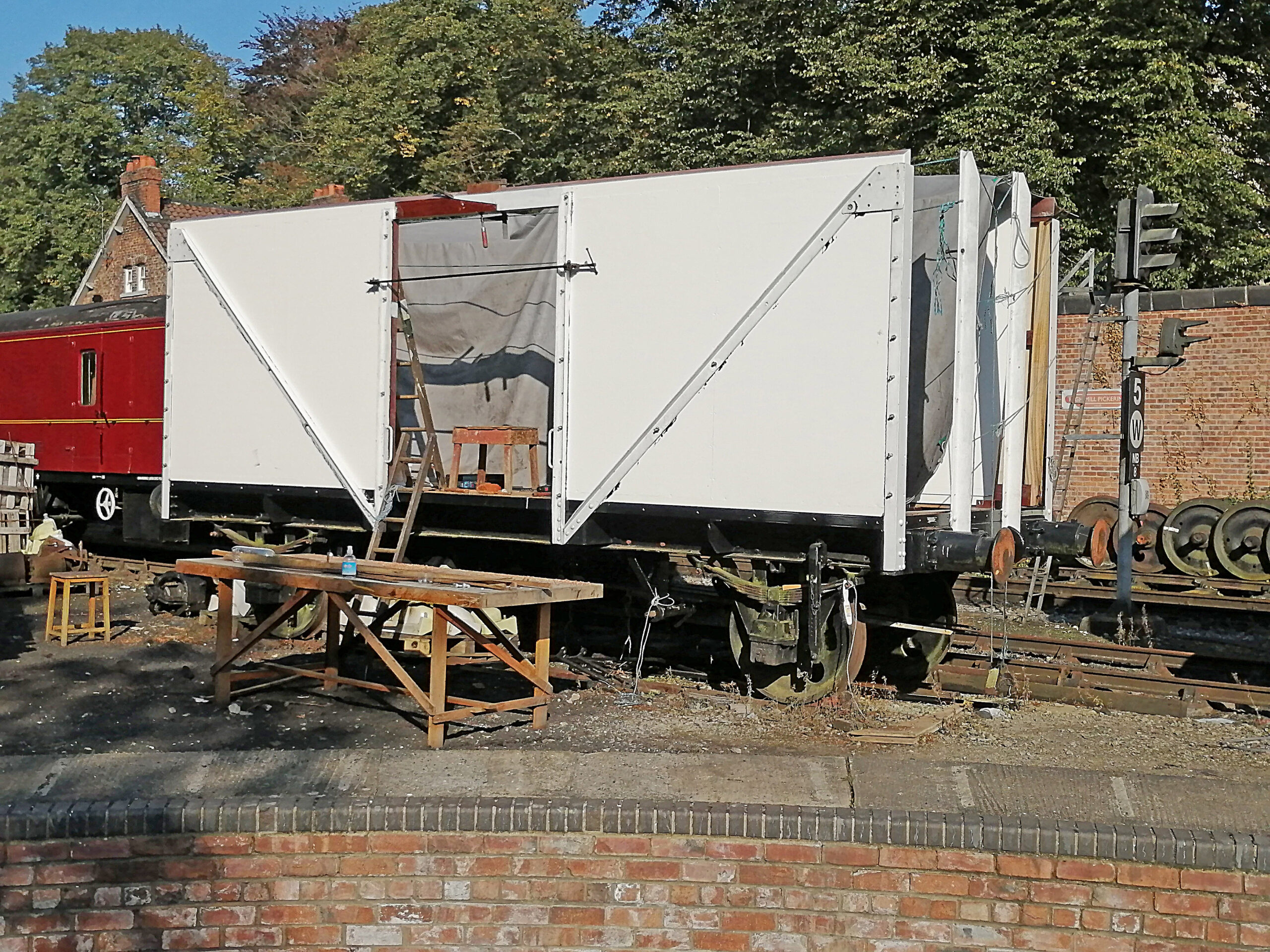 The first two exterior panels are now in place on the Fish Van E75169. Behind these panels is the framing. Once the van has its sides, ends and roof installed, plywood will be cut to size and screwed into place inside the vehicle. Photo: Andrew Daniel.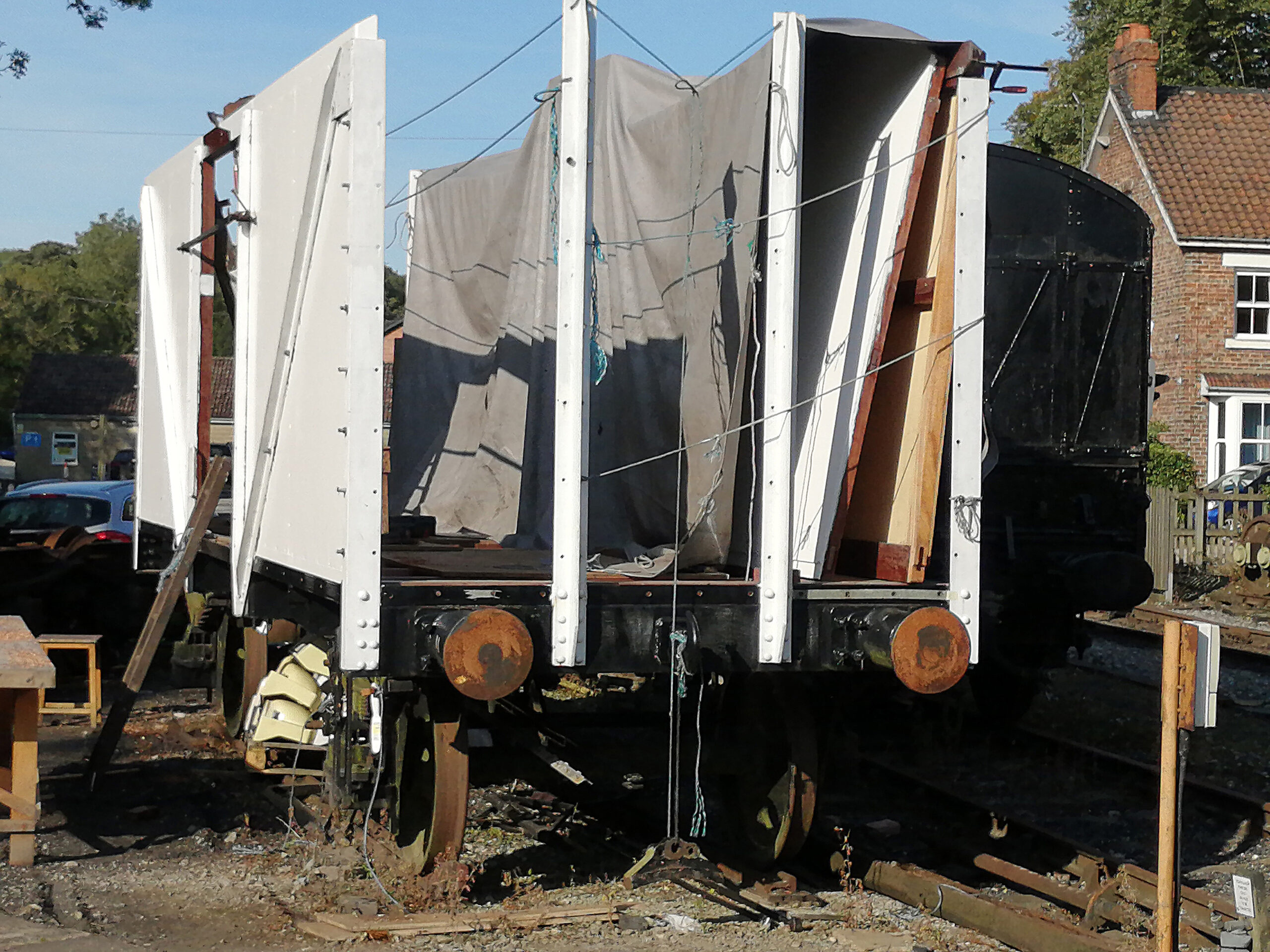 The view from the end of E75169, with the two western side panels in place. A temporary arrangement has seen a tarpaulin erected to protect panels awaiting fitting on the ends and eastern side (nearest the railway) of the Van. Photo: Andrew Daniel.
Fish Van begins to look like a Fish Van – July 2020
Major progress is now underway with the installation of the new framing for unique LNER Fish Van E 75169.
Faverdale Wagon Works, Darlington, built E 75169 in 1949. Situated on the Darlington-Shildon route, the Works was constructed by the Cleveland Bridge & Engineering Company for the North Eastern Railway in 1920 and produced its first wagon in 1923 when the London & North Eastern Railway came into being. Its reign last exactly 40 years, closing on June 29, 1963 with the loss of 366 jobs.
All the framing on the Fish Van is new. Although some of the original could have been used, much of it could not, so it was an easy decision to start afresh. With all the machining undertaken at Andrew Daniel's Harrogate workshop, it was transported to Pickering in early July. The floor framing was laid first, followed by the side framing and, finally, the ends. Each side has been made in two sections which are joined in the centre of the van with a scarf joint. This is above the opening for the sliding double doors.
Both the sides and the ends fit between the edges of the floor framing and the metalwork of the van itself.
Some adjusting of the woodwork has taken place, this being necessary to ensure a tight fit. It is far easier to reduce the size of components than find they are not quite the correct length.
The wood is being treated with Eposeal which is a clear, solvent-based, low viscosity epoxy sealant.
Now that the ends have been trial fitted, they will be taken down and have the one-inch plywood boards fitted. The ends will then be lifted into place – complete with this thick, treated, plywood in place. The plywood has been in stock inside the Atkins shed for getting on for ten years and its cutting to size, treating and fitting on the van will release some space along the sides of the Atkins shed.
The plan is to then paint the plywood with white undercoat, followed by gloss white, using Williamson's Spec 81 paint which has durable qualities.
TTO 56856
This Tourist Third Open is resident inside the Atkins shed and is undergoing roof repairs. It has been patch repaired pending a new canvas in a few years' time. It is receiving two coats of white Durashield. Next in line for attention is sister TTO 23956.
Welcome back
Following the submission of a list of mitigating measures to comply with the Covid-19 saga, volunteers have been allowed back into the Atkins shed as a welcome break from domestic chores. Unfortunately, the Sleeping Car is closed to volunteers for the time being.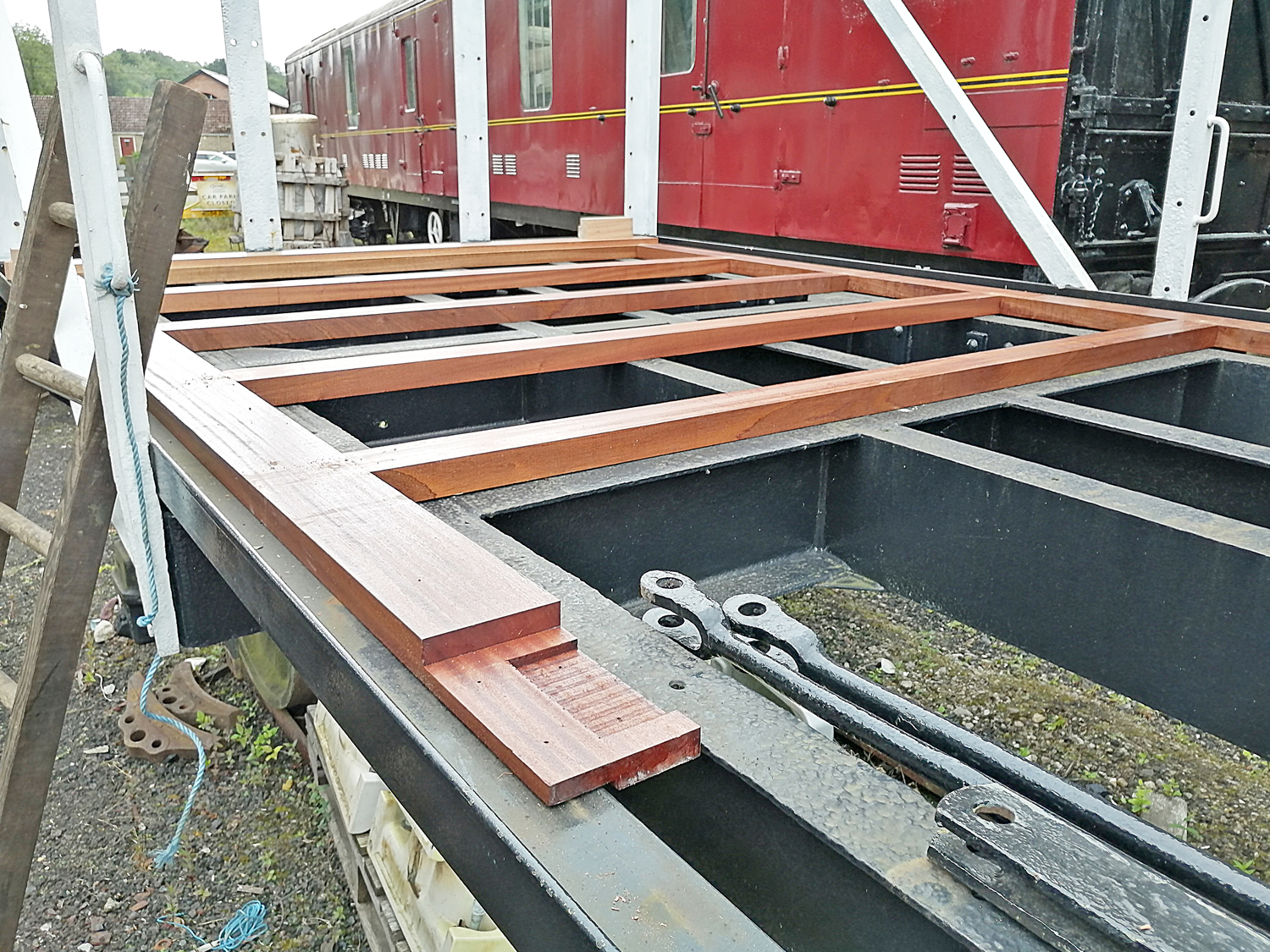 First to be trial fitted was the floor framing. Because of its length, it was machined in two halves. The gap between the edge of the framing and the metal frame of the Fish Van is where the thick plywood panels slot in.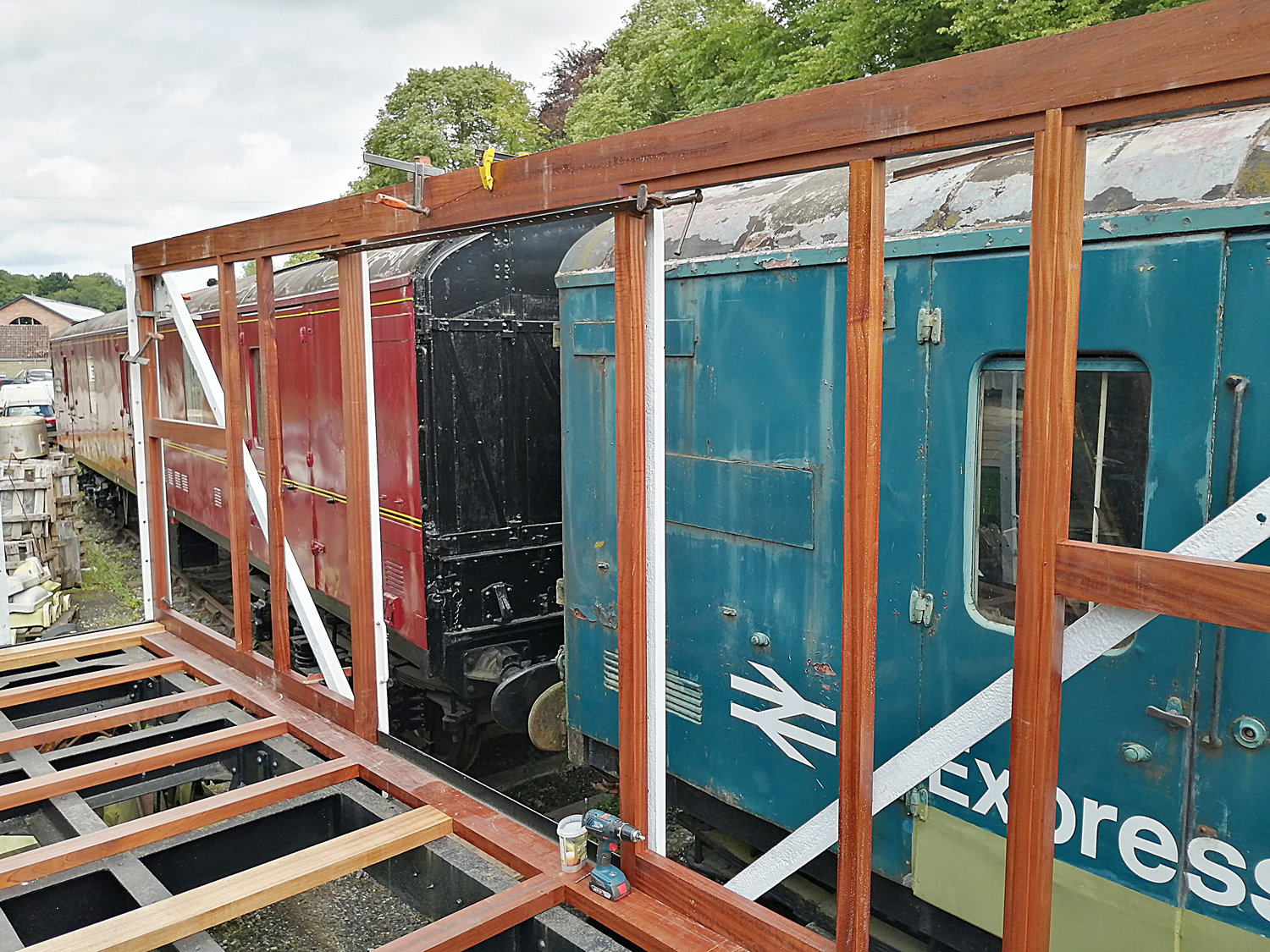 Next to be erected were the sides. Again, these were constructed in two halves and if you look where the clamps are, you can see the join of the scarf joint where the two meet.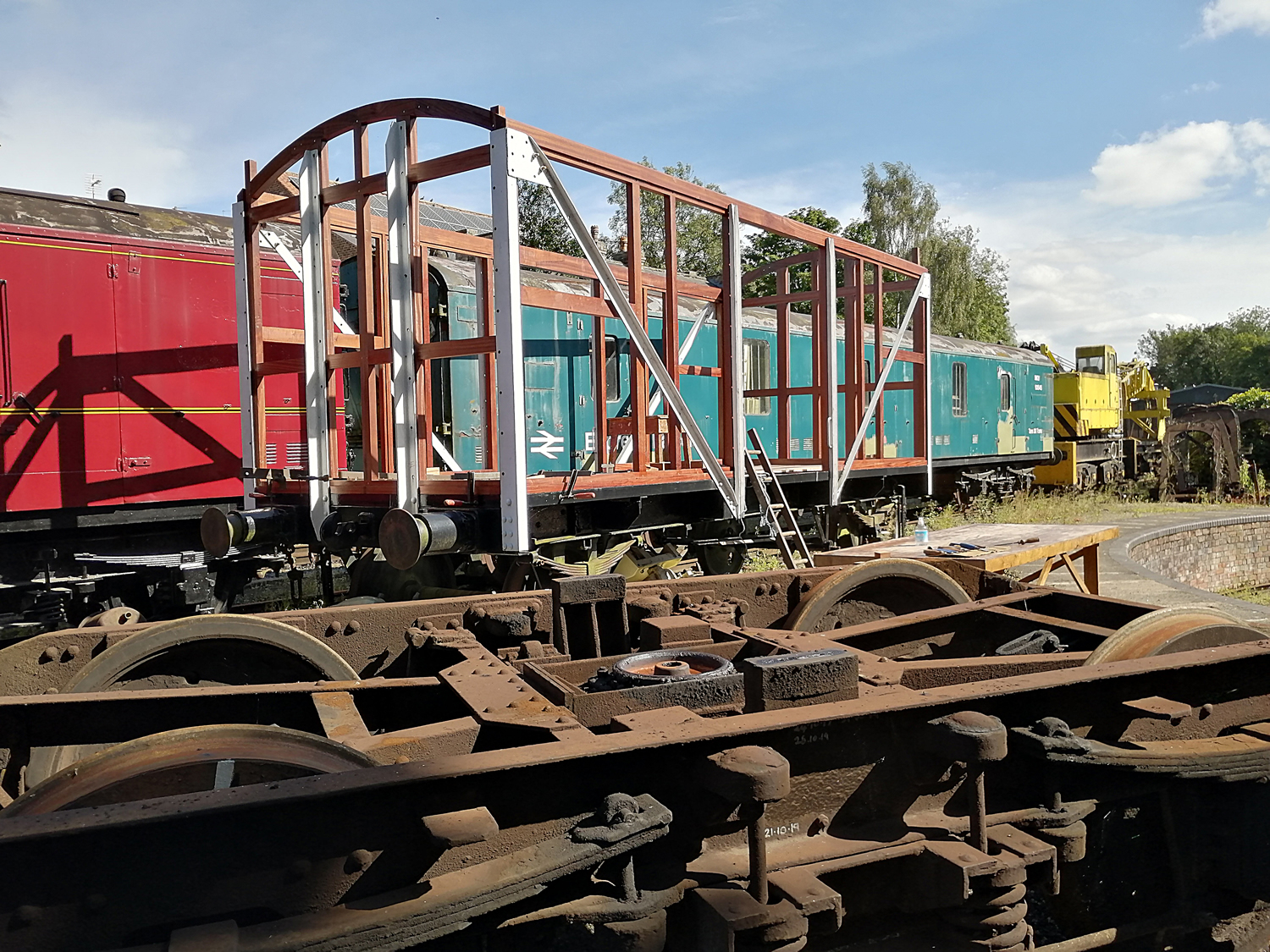 After years of being a derelict, then just the frames, E 75169 is looking like a Fish Van once more. All the woodwork is being treated with Eposeal and will be dismantled to have the one-inch thick plywood panels fitted. Photos: Andrew Daniel.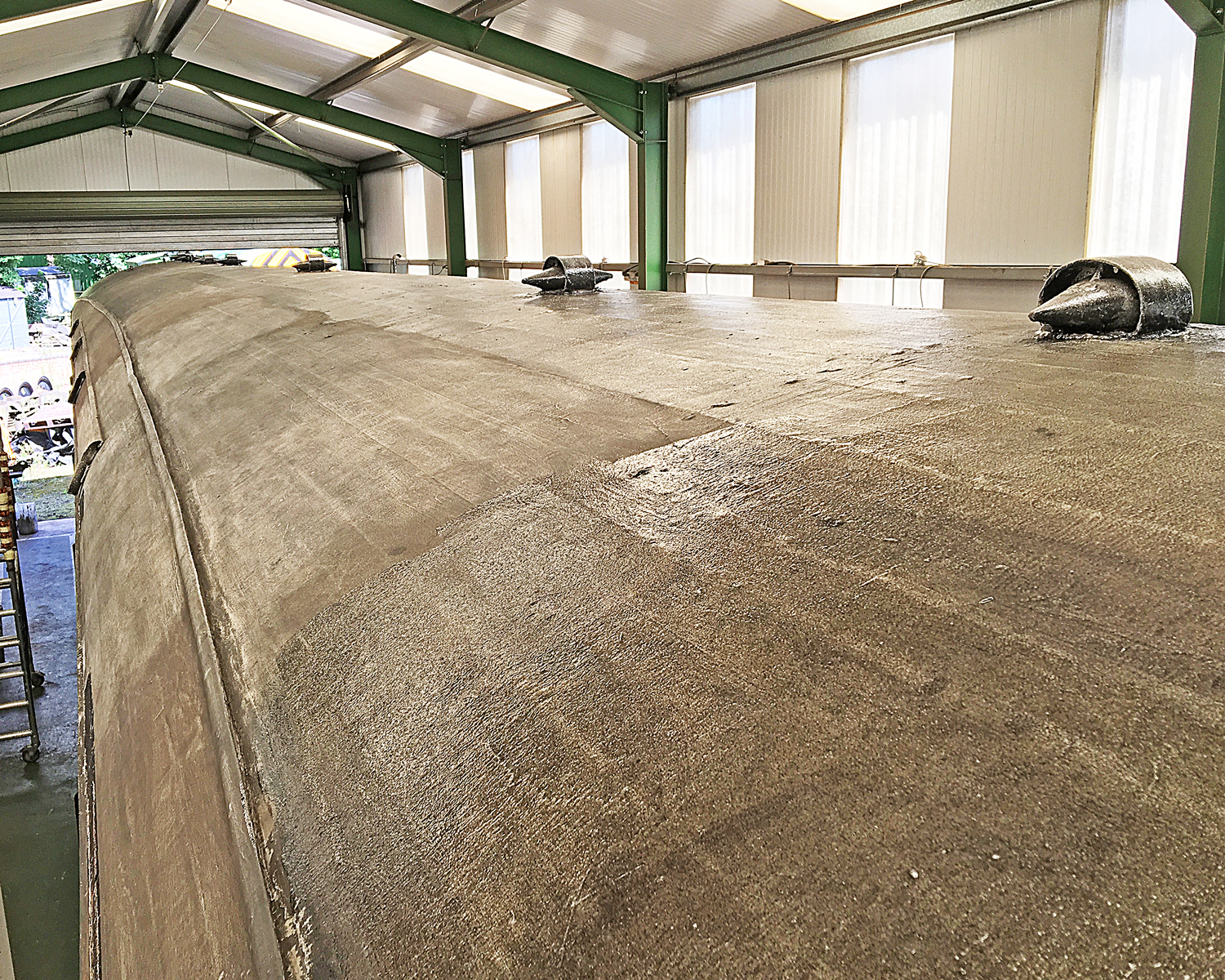 Inside the Atkins shed, TTO 56856 is having its roof repaired. Water was ingressing. Patch repairs have been effected and it is seen with the bonding primer applied. It will receive two coats of white Durashield sealant. The repairs are seen as a stopgap measure, pending a full recanvas in two or three years' time.
New framing for Fish Van machined and trial fitted – June 2020
The metal frames of the LNER-designed, BR-built (1948) Fish Van E75169 can be seen adjacent to the turntable in Pickering Yard. They have been waiting for framing from joiner Andrew Daniel, who has been beavering away in his workshop cutting and assembling it. Prior to this Andrew has been putting back the original sloping end design to the Beavertail observation carriage 1729 at Nemesis' depot, Burton-on-Trent. He has now turned his attention to something a little less glamorous but still unique.
Detailed measurements were taken some years back and marked on large sheets of plywood, which was essential for machining the new framing with its mortice & tenon joints.
The side framing is being constructed in two halves which will be joined on site at Pickering with a scarf joint.
The plan is to assemble the framing in the workshop to ascertain it fits correctly, then dismantle it, transport it to Pickering and re-assemble on the actual Fish Van. None of this can happen, of course, until Pickering yard re-opens.
Thompson Composite Lavatory (CL) No. 88339
This unique 1947-built carriage is domiciled at R S R North East Ltd, Spennymoor, County Durham, until the carriage stable is up and running. It used to run at the north end of the LNER set, where access to it can be gained from all the short platforms on the NYMR, and that is where it is will go when it returns to the NYMR. Work on 88339 at Spennymoor has included removal of the metal cladding and repairs to some of the structural framing.
All 12 doors have been removed and taken to joiner, and former York Works coach builder, Jim Chittock's York workshop for attention.
New metal cladding is intended to be fitted once all framing repairs on the carriage body are complete. This will then be 'scumbled' to mimic wood, just as can be seen on currently in-traffic Thompson TK 1623.
The future
With Pickering in lockdown due to the pandemic, the Atkins shed is out of bounds to LNERCA volunteers. All activity within the shed has stopped, and will remain stopped until the NYMR re-opens. Consequently, work on the two coaches within the shed, the repair of leaks in TTO 56856 to enable it to return to traffic, and the restoration of the ECJS 189 dining car, will be delayed by some months.
Even when the Atkins shed re-opens, the Association is facing two challenges.
The first is that life is not going to return to pre-pandemic normal until a vaccine is available for all of us for Covid 19. That may be some time. Meanwhile, the virus will still be around, so social distancing rules will have to be observed. This means that the number of volunteers allowed in the shed will have to be limited, which is a shame because before lockdown we had an abundance. Less volunteers means slower progress on the coaches. Therefore, inevitably, our carriage restoration timescales are going to be longer.
The second challenge is the familiar one of money. Fortunately, the Association has amongst its members some most generous donors, without whom our work would not be possible. However, we are now approaching a point with the ECJS 189 dining car where we will have to spend significant sums of money on its interior fittings. Even if you have previously contributed towards what will be one of the finest carriage restorations ever done, please consider another donation. Once we get back to work, there's not that much left to do, but we will need help.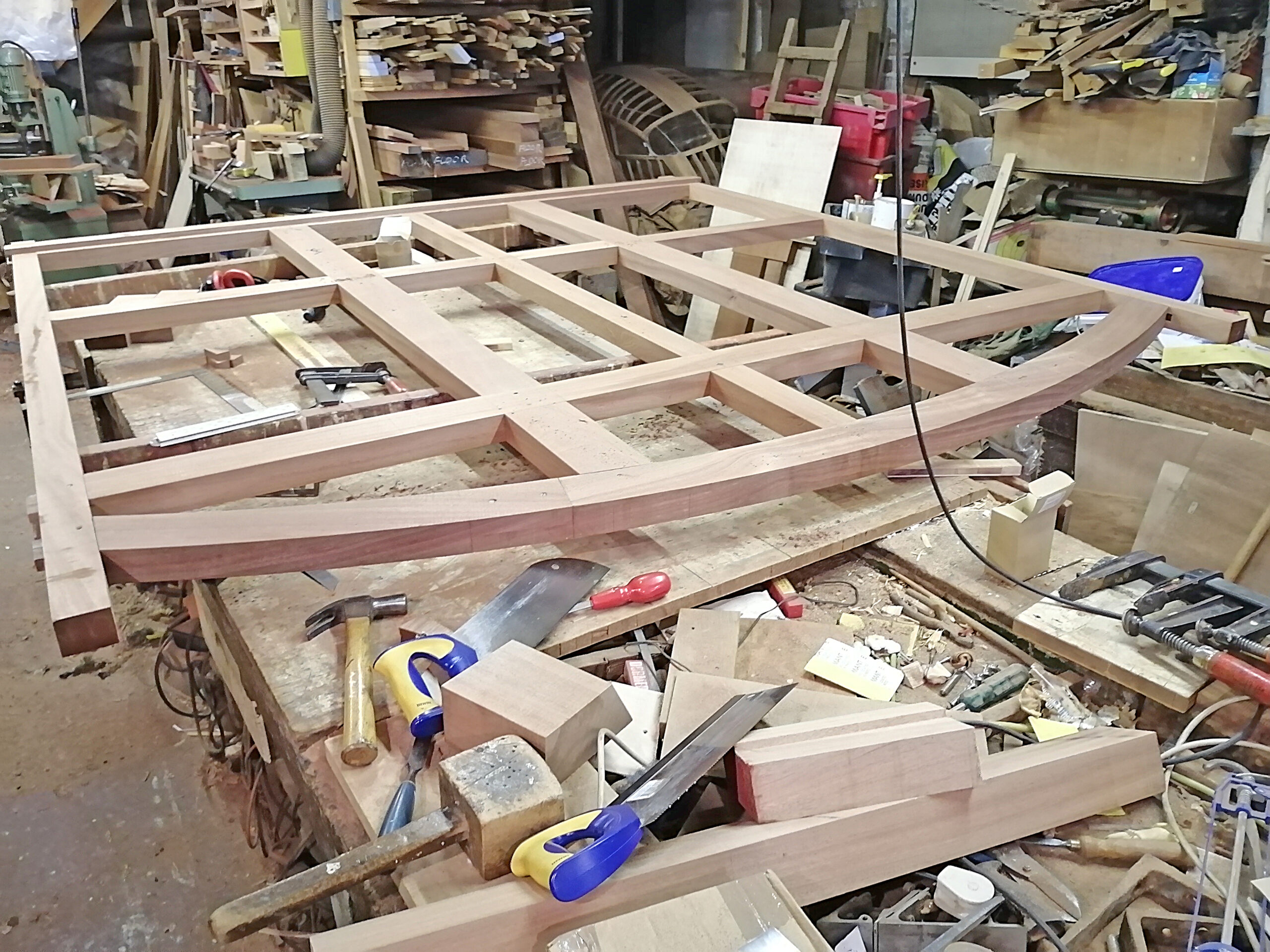 The end is in sight – this is the end framing for the Fish Van E75169, one of two to be machined and trial fitted. What with the ends, sides and floor, a large amount of skilful work with Sapele, a type of hardwood, has gone into this restoration.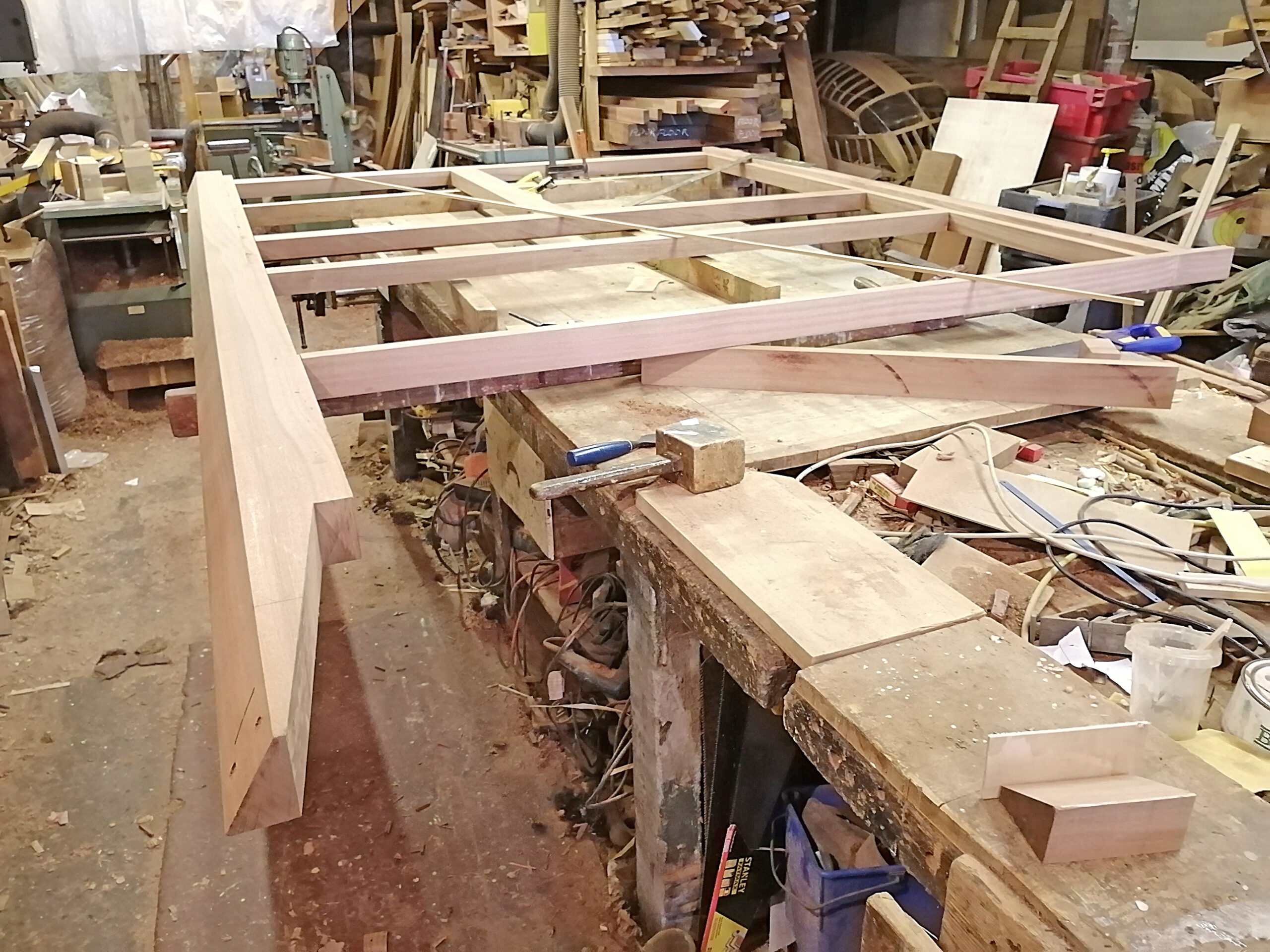 The side framing is being made in sections leaving space for the sliding doors in the middle of the van. Nearest the camera is the Scarf joint to which will be joined the matching item from the opposite end of the van when assembled on site.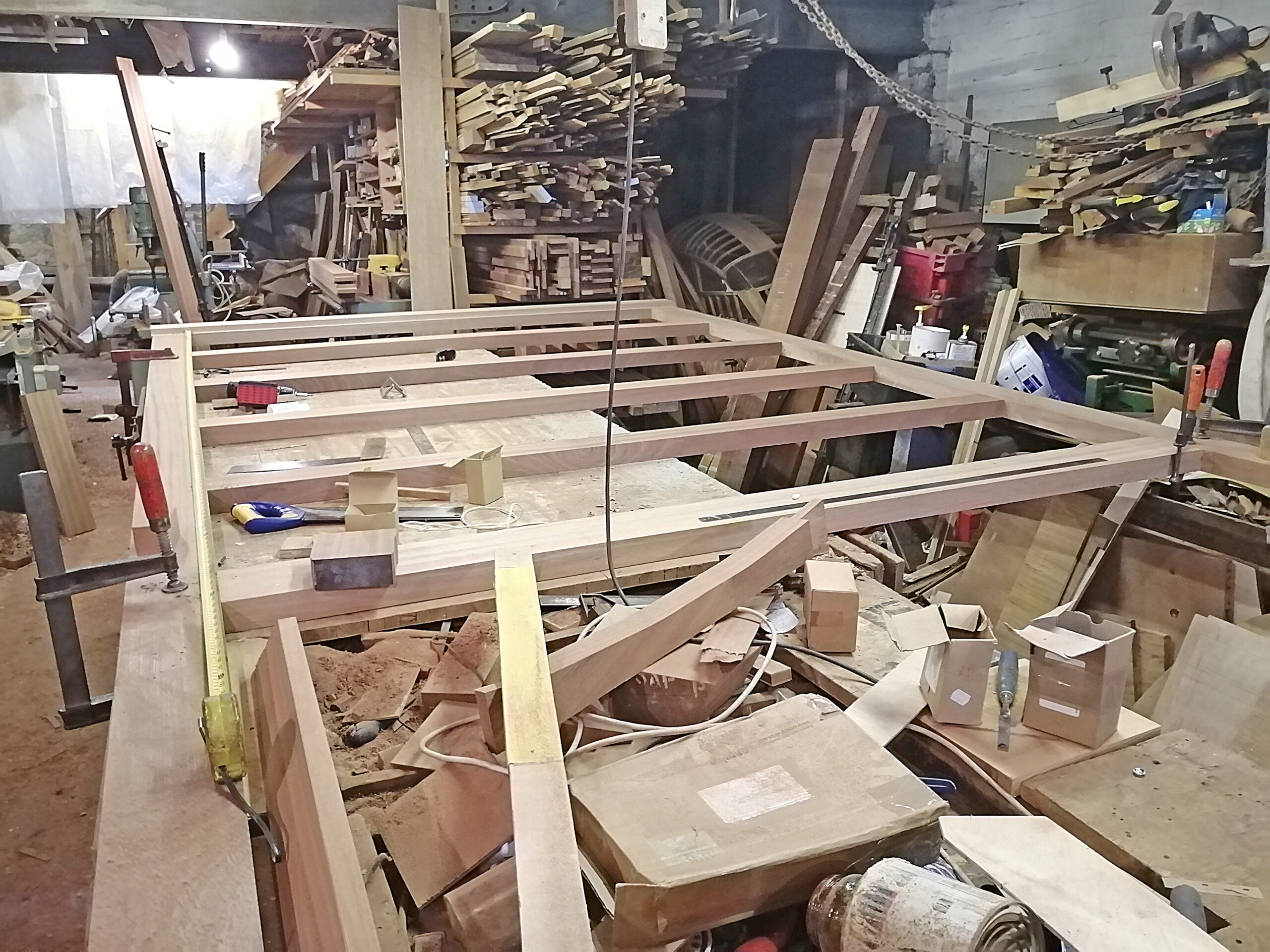 This is the framing for the floor. It is being made to a standard capable of supporting not boxes of fish, but some of the heavier spares of the Coach Association. (Photos. Andrew Daniel)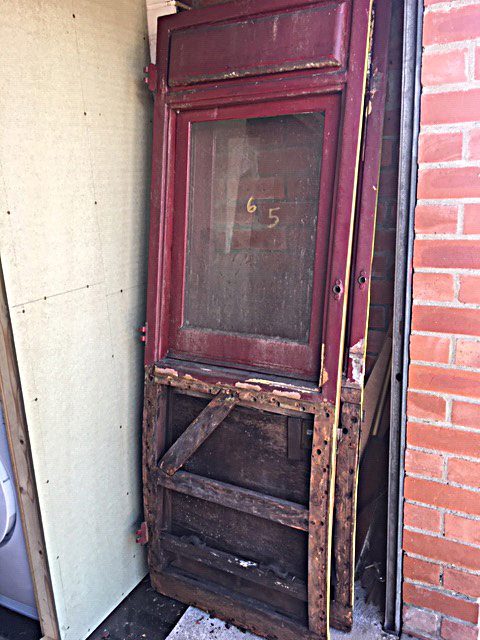 Two doors from Thompson CL No. 88339 at Jim Chittock' workshop. You need an understanding wife when 12 of these doors arrive.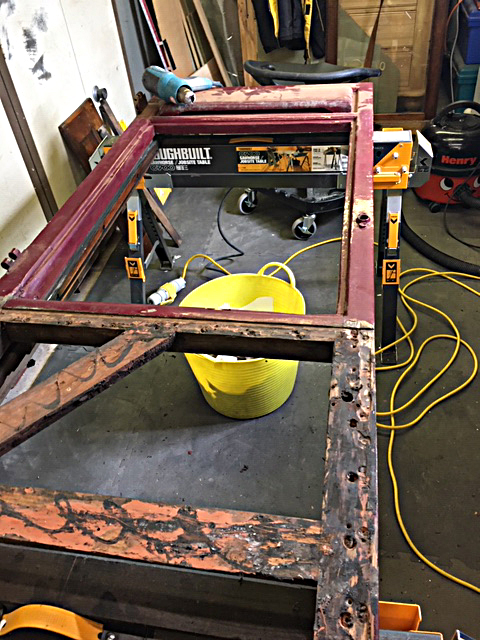 One door partly stripped. There are a surprising number of components in each door, many of which can only be seen when the panelling is removed.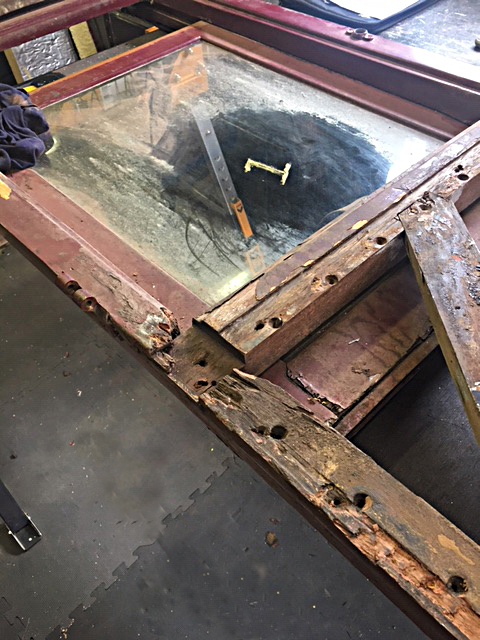 Here is an example of where the framing has deteriorated to such an extent that renewal is mandatory. The spaced holes are those from where the metal cladding was removed. (Photos. Jim Chittock)
New occupant in the Atkins shed – May 2020
With Brake Third Open 43567 now outshopped after its mammoth repair, its turn has been taken by Tourist Third Open 56856. This has come in for emergency roof repairs. Whilst waiting its turn, 56856 had been stored under the station roof at Pickering, thus keeping the water off it. When in service, water had got in under the roof covering which has then 'bubbled'. The affected areas are to be cut out and patch repaired. This is only a temporary 'fix' as the plan is to see if it will survive in traffic for a couple of seasons after which it can be scheduled for a major overhaul.
Repairs had barely started when the lockdown took place, so it is not known when further work will restart or, indeed, if the LNER set will even be used this year.
ECJS Restaurant Third 189
Before work was suspended due to the virus, the lower ceiling panels were being fitted. These are two pieces of 3mm flexiply laminated together after being coated in Eposeal primer to prevent rot. Meanwhile, in the pantry, the pantry walls have now had numerous undercoats rubbed down to give a smooth finish for the final gloss coats.
The inside of the attendant's cupboard is now ply clad and painted, allowing work to start fitting the lighting switch board and associated cable runs.
The dresser drawers have had flush fitting NER handles fitted and are now varnished and rubbed down ready for the final coats. All the visible knee irons on the saloon walls are now filled and painted brown to match the teak and the last of the matchboarding fitted to the small saloon. It had been planned to start fitting the roof coverings during May coach week but this is shelved for the duration.
Fish Van E 75169
Fortuitously, just before the shutters came down, a quantity of Sepele hardwood was delivered to the workshop of Andrew Daniel in Harrogate. Machining is now underway. The plan is for the framing to be assembled in situ, then dismantled and transported to Pickering whenever that it is permitted. This was what happened with the corridor framing for Thompson CK 18477.
Thompson Composite Lavatory (CL) 88339
At RSR North East's Spennymoor, Country Durham, premises, all the doors from the CL were removed before the lockdown and taken for repair to his York workshop by Jim Chittock. In addition, all the metal paneling on one side has been removed. This needed replacing anyway, and had to go in order to get at the wooden framework behind, where a number of woodwork repairs were required.
Once it is completed, and before it is fitted with new paneling, it will be inspected and subject to approval by LNERCA and NYMR personnel. Then the other side, which is thought to require less work, will be tackled.
Some upholstery has been found to have rotted, due to water ingress. Fortunately, we have stocks of the correct moquette, so the affected items have been returned to Pickering for re-upholstering.
When it comes to fitting the new paneling, the Association has plenty of experience of this, having worked on Thompson TK E1623E. Like that vehicle, the intention is to finish it in scumbled teak.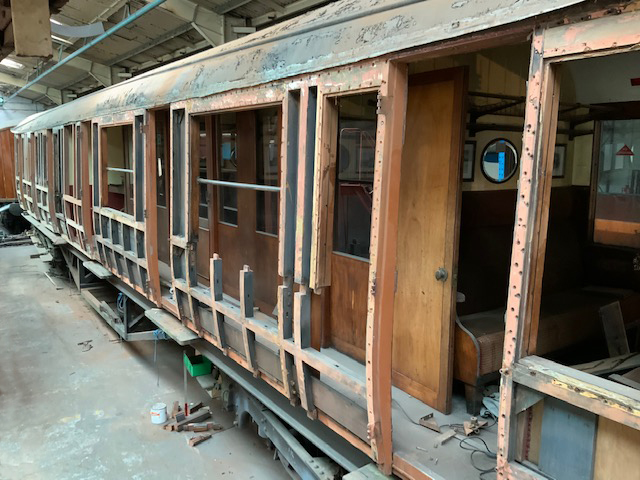 CL 88339 residing in RSR North East's workshop, looking a little bereft of cladding and some framing. This unique carriage is one of four in the care of the LNERCA which were built in the Edward Thompson post war era, and which were scumbled, i.e. the metal panelling was painted to mimic wood. With the doors away for repair, part of the rail below one window is being replaced, this being an area susceptible to water ingress and damage. Photo: Derek Winters.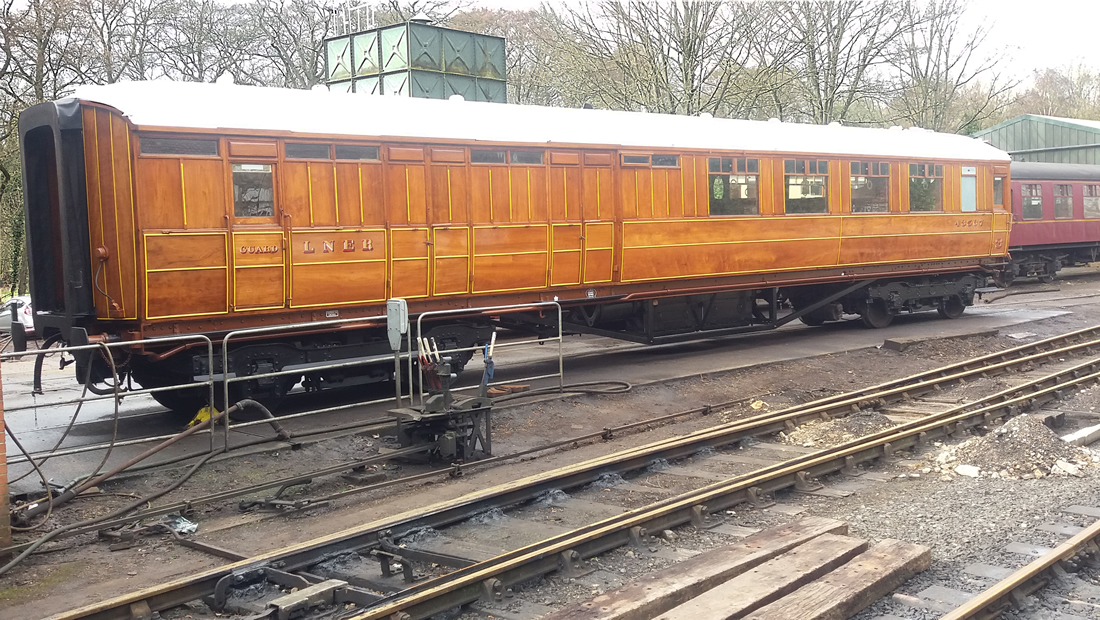 BTO 43567 is parked outside the C&W on March 14. Always nice to see a carriage in pristine condition after so much attention has been lavished upon it. Photo: Mike Pearson.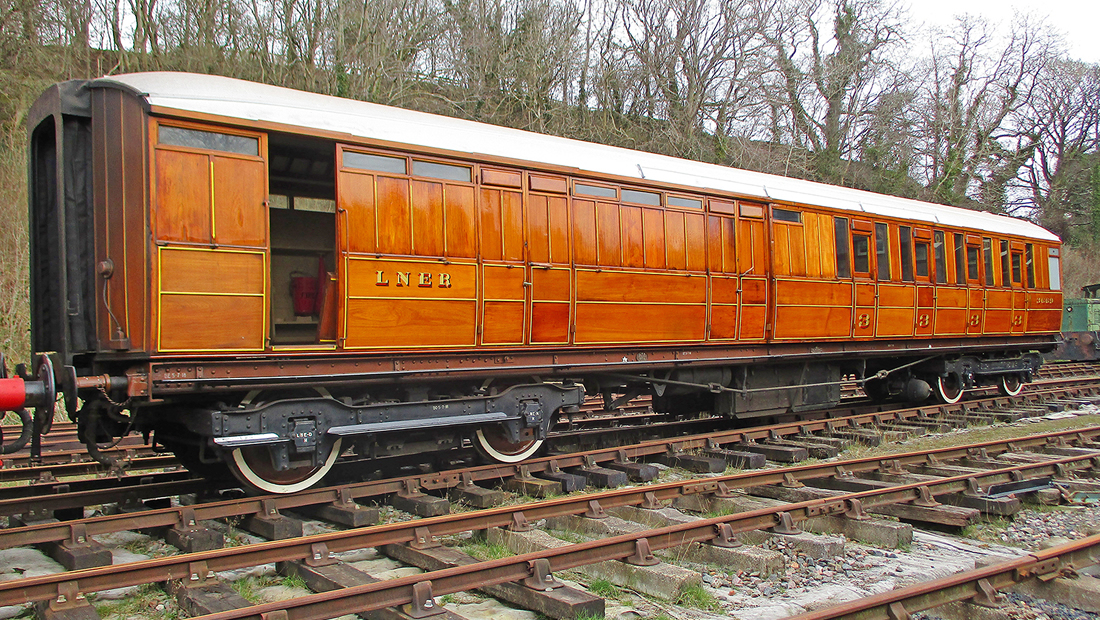 Meanwhile at Kirkby Stephen Brake Third Corridor 3669 looking rather nice, having now had one side to be revarnished. Since arriving from the NYMR, it has been kept under cover, roof painted and chassis cleaned by volunteers from the Stainmore Railway. Blown varnish has been stripped back down and the whole carriage is being revarnished by Phil Anderson under contract. Photo: Mike Thompson.
Not one, but two projects completed – March 2020
The restoration of our covered carriage truck, CCT 1308, is fully completed, thanks to the magnificent efforts and workmanship of many LNERCA volunteers, but particularly Brian Ford and Ken Richardson. The CCT itself has been moved out of the Atkins shed to the Beck Siding (the north end of Pickering station), where it now resides with fellow LNERCA-owned ex Gresley RF No. 42969, alias the Upholstery Coach. Both carry LNER colours, 1308 in LNER Brown and the carriage in LNER Departmental Oxford Blue. Thus, both vehicles fully fit the image of the 1930's LNER era which Pickering station depicts.
There is another significance to both its renovation and that of 42969. So often on heritage railways, non-passenger carrying vehicles tend to become neglected. This is because normally all available volunteer manpower is directed at the passenger-carrying carriages. So, with gleaming 1308 and 42969 on show, we have two historical items from our collection no longer derelict, earning their keep as well as providing vital stores facilities, improving relations with our neighbours, increasing morale amongst LNERCA volunteers and offering an antidote to those who feel not enough is accomplished in encouraging the historical aspect of the NYMR.
It is a pleasure to acknowledge the assistance of C&W Manager, Kieran Murray, and his team, as well as the Wagon Group who had to forsake their usual space in the Atkins shed to accommodate 1308.
And there's more! Gresley Brake Third Open 43567 has also been completed after a mammoth effort to put right all the defects, put a new roof covering on, and then apply 12 coats of varnish, let alone undertake the intricate lining out. Let's not forget the complete interior paint of the guard's van section in light stone eggshell finish. It is almost worth asking passengers to visit the guard's van, it looks so good.
Never-ending queue
After 43567, there are two further vehicles in the teak set needing attention. The first is Tourist Third Open (TTO) No. 56856. It requires work on its leaking roof and the resultant damage which this has caused. Hopefully this work can be accomplished quickly, as it is needed to bring the teak set up to four coaches for the 2020 season. There will not be time to re-varnish it. After that, it will be the turn of TTO 23956, which has unfortunately deteriorated to a similar state as 43567 last year, and requires a major overhaul.
Join the club!
Can we entice any of you to help us? Both armchair members and working volunteers, with or without skills, are welcome. We can offer an excellent working environment, thanks to the NYMR's Atkins shed. Do call in on your next trip to the railway where we can show you what's going on. Our website is www.lnerca.org
STOP PRESS!
Authorisation has just been given to our joiner, Andrew Daniel, to proceed with ordering the hardwood to allow repairs to start on Fish Van E75169. His 12-year stint on rebuilding LNER Observation Car 1729 at Nemesis' depot, Burton on Trent has come to an end, so he is starting on another unique LNER vehicle, but one with not quite the same panache!
Andrew collected the 'marking out' boards on which he made detailed measurements some two years ago and he will now fabricate the frame members in his Harrogate workshop and then bring them to Pickering. Luckily, being self-employed and working alone, he is able to progress the machining and fitting without the distraction of the virus pandemic which is affecting so many people.
Our hobby has gone viral
In the current Covid-19 (Coronavirus) outbreak, the LNER Coach Association's first priority is the safety and well-being of all its members and working volunteers. Therefore the Association will follow government advice, especially as regards social distancing and self isolation precautions. As it now seems likely that the pandemic will continue for some months, both our Annual General Meeting and our Working Week in May will be rescheduled to a later date which will be advised in due course.
We are leaving volunteers to decide themselves if they wish to continue working in the Atkins shed but we fully understand those who feel they should stay at home.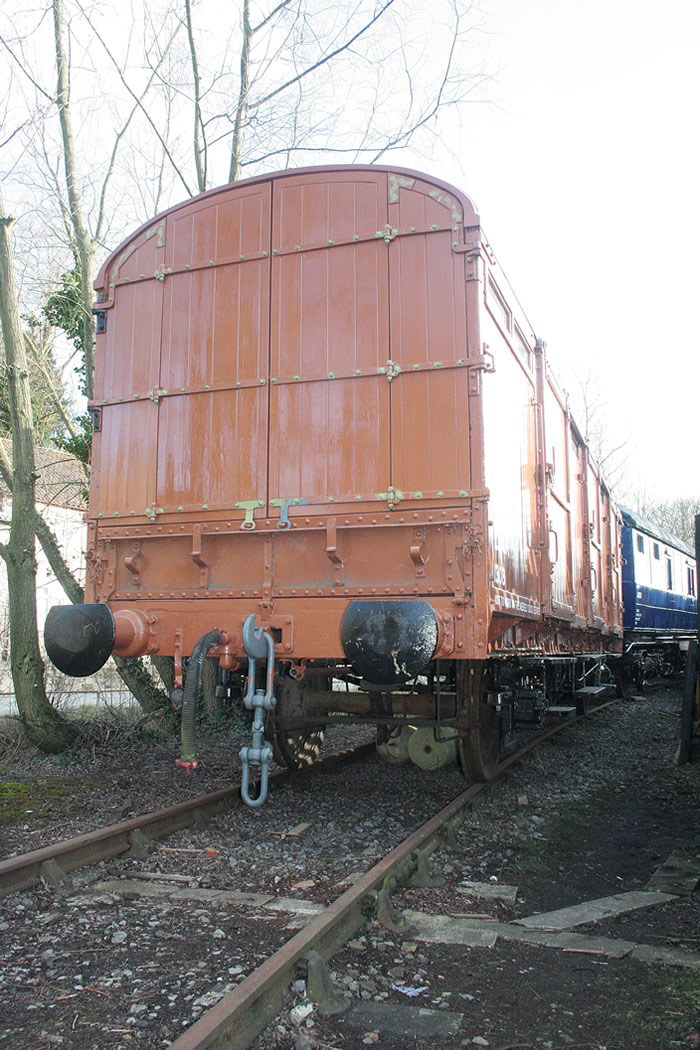 Station Sentinel: Resplendent CCT 1308 stands guard at Pickering station, in the company of former Restaurant First No. 42969. Photo: Murray Brown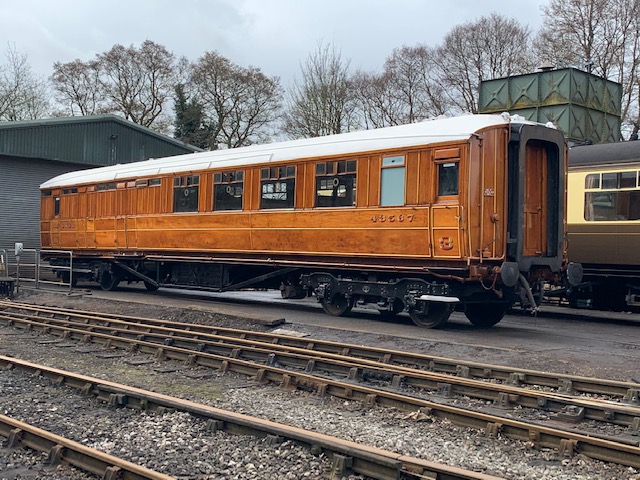 It's so good to see BTO 43567 looking resplendent once more after months of effort. Here it is after being shunted out of the Atkins shed. Photo: Neil Cawthorne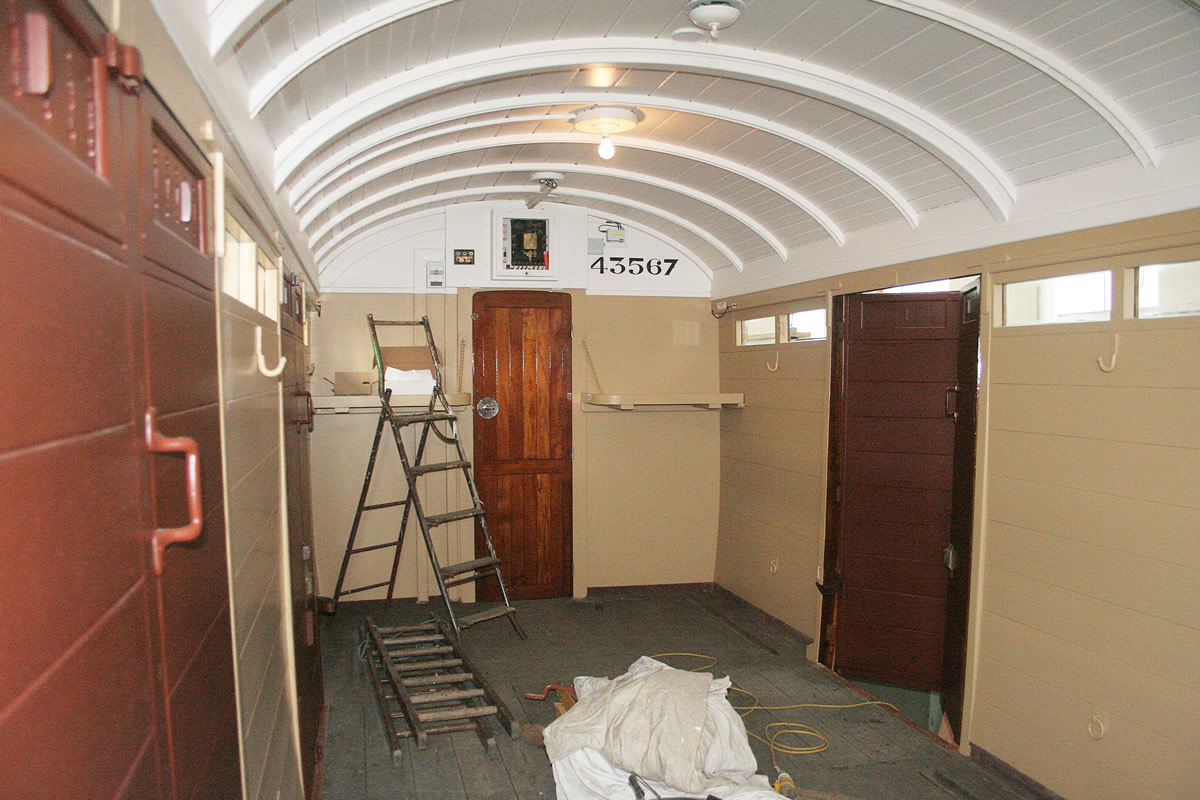 The gleaming interior of the brake van section of BTO 43567. Russ Whitwam has spent some hours in here wielding his paintbrush. Photo: Murray Brown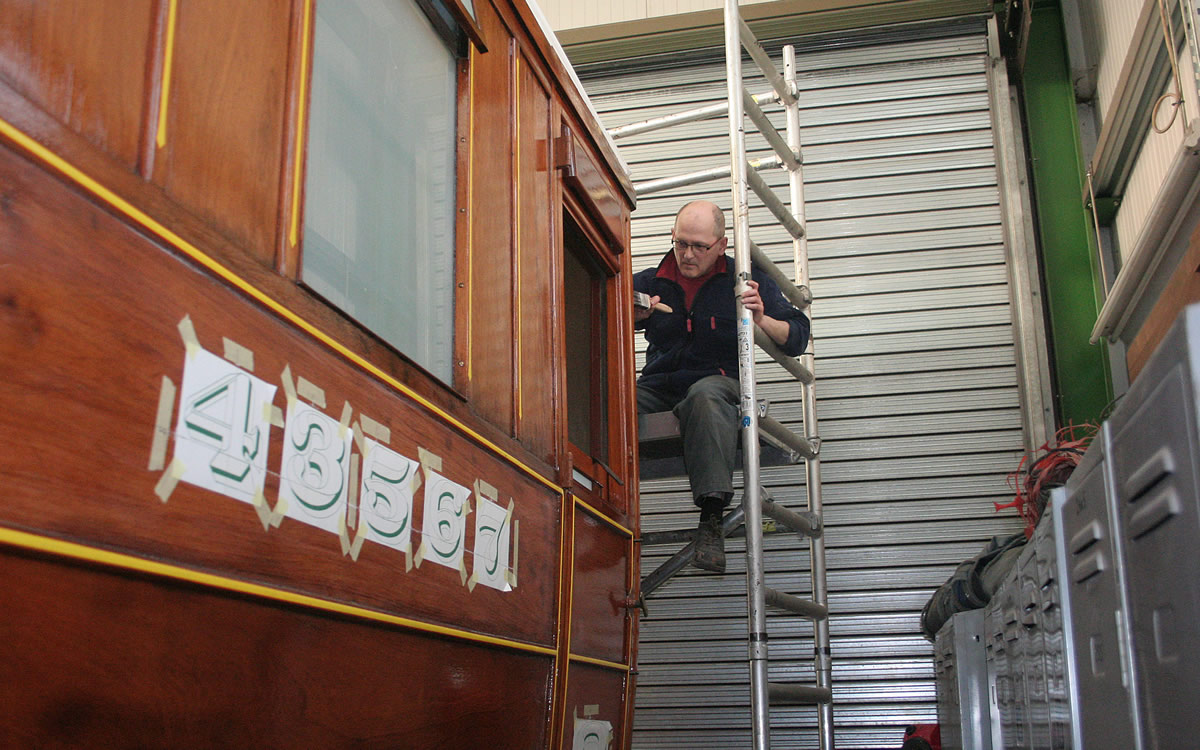 Putting the finishing varnish touches to the end of BTO 43567 is Nick Smith, one of the regular Sunday volunteers. Photo: Murray Brown
It's looking good!
There's a rather nice looking carriage in the Atkins shed (apart from long-term resident ECJS Restaurant Third No. 189) – nice because within living memory, it was in a dreadful state, with varnish peeling and water getting in. Not any longer. After thousands of man-hours work, the watertight Brake Third Open No. 43567 is having copious quantities of varnish applied and the day looms nearer when it can be rolled out completed.
One one side, eight coats of vanish have been applied and the intricate lining out has been completed. Roy Lingham is one of those with a steady hand. The other side (facing the railway yard) has had four coats. The letters and number stencils are now being applied to the bodysides.
The guard's ducket (which protrudes from the side of the carriage and through which the guard can see along the outside of the carriages) has had its first coats of scumble paint – more to follow. Russ Whitwam has yielded the paintbrush here.
Even at this stage of 43567's renovation, a small amount of rotten wood was discovered at a corner of the carriage – this was quickly given attention.
A March completion is anticipated.
No. 189 – jobs galore
Our very own 'Forth Bridge' carriage, RT No. 189, continues to have a variety of work undertaken upon it. Attention is now turning to preparing the internal panelling prior to them being pinned on.
Another job underway is the renovation of the clerestory decorative windows (lights) – these are the ones with the etched patterns in the glass.
Of particular interest is the finding of a photograph depicting a similar era carriage and its lighting fittings. What appears in the photograph gives us the impression that this might be a far easier option (and vastly cheaper) than the scheme being previously followed. It is even suggested the light shades are so similar to those found in a well known hardware store!
What's in store
The answer is a diminishing amount of spares and general detritus. Thanks to Mark Stovold and his helpers, literally tons of items have been sifted, sorted and moved – much of it away to a container off the site. It is a revelation to walk into our High Mill workshop and see the space created. However, there's tons more to sift.
All this is being done for two main reasons – to try and catalogue what we have and to make the workshop fit to be used as . . . as workshop. Already, the main bench is being put to good use to manufacture and renovate the end doors for the CCT No. 1308. Previously, you could not even see the top of the workshop bench.
There's a plaice somewhere
No mention has been made for many a month of our other preservation project – that of the unique Fish Van No. E75169. All that is about to change – honest! – when our joiner Andrew Daniel has promised he will be starting work imminently, as he has finally, after 12 years, completed his massive restoration of the LNER Beavertail observation carriage at Nemesis' depot at Burton on Trent.
On Saturday February 8, the extremely heavy brake shaft was lifted into place. This went in surprisingly easily, yet drilling the four holes in the bolts (which take the split pins) which hold the 'V' hanger onto the Fish Van framing and which support one end of the brake shaft took two hours and two cups of tea.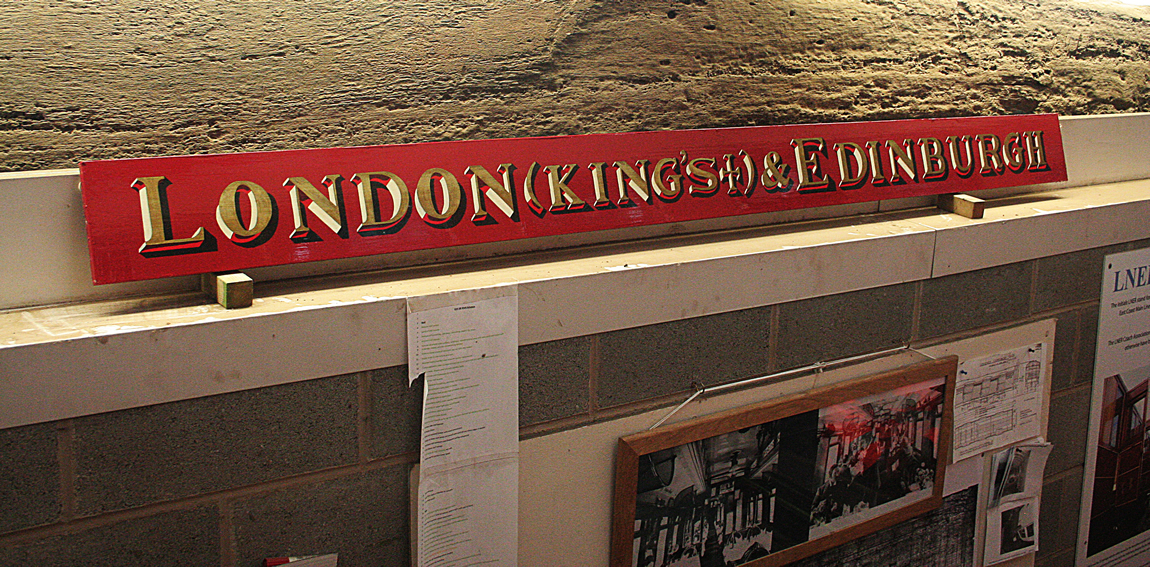 The splendour of No. 189 continues. How about this for the destination board which, when No. 189 is completed, will be slotted in above the cantrail. This is the outstanding handiwork of Chris Johnson. Above it on display looks like an old tree trunk. Correct – it is the bark of a section of teak recovered from the SS Pegu which was torpedoed on July 8, 1917 seven miles off Galley Head on the south coast of Ireland. This teak was under the sea for some 60 years until some was salvaged to help restore the Mary Rose, recovered in 1982. The LNERCA managed to acquire some of this teak.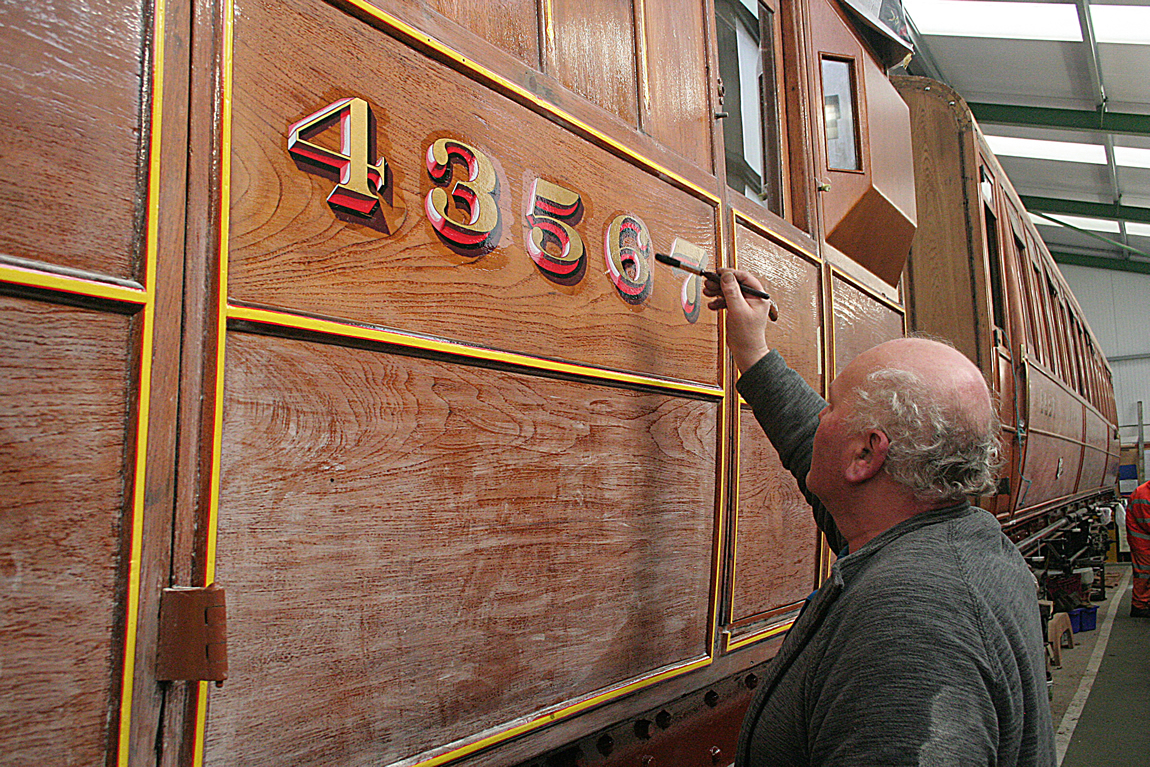 Marcus Woodcock applies Le Tonkinois varnish carefully to the carriage number transfers. This side of No. 43567 has received eight coats of varnish. Sections of the teak panels have been sanded in preparation for the ninth coat. The intricate lining has been completed on this side of the carriage – Roy Lingham was the man with the patience and non-wobbly hand. This work took many hours, the red (two coats) being applied first followed by the primrose centre.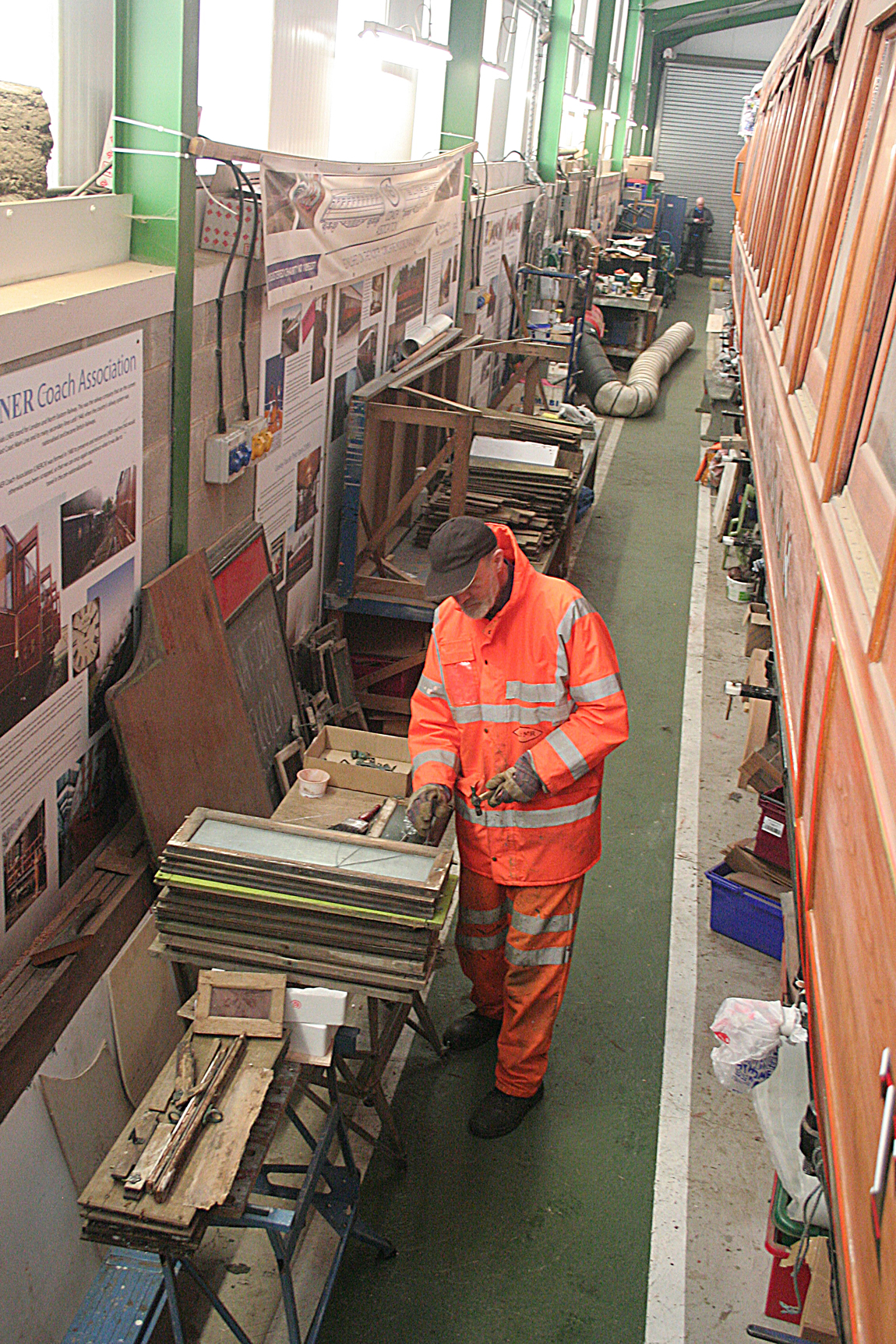 All the clerestory lights (windows) are now in the process of renovation prior to refitting. Stuart Hiscock has the pile in front of him to keep him busy.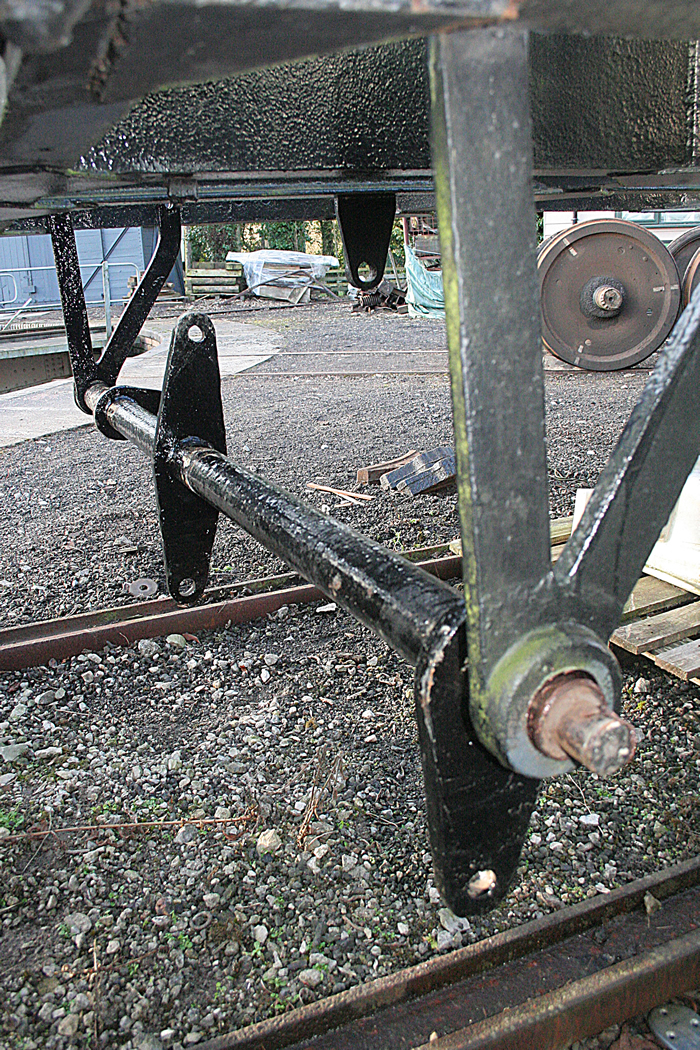 The heavy brake shaft, recovered from the contractor at Spennymoor (missing when the Fish Van body was returned to Pickering after welding repairs) is now installed. Photos: Murray Brown.